How likely do people think it is that
cold fusion
is a real phenomenon? Based on how likely people view cold fusion it can be used to decide whether to spend time/money/effort investigating it.
The Fx prediction market has a
bet
"Cold fusion of deuterium in palladium can produce over 10 watts/cc. net power at STP (standard temperature and pressure). Cold fusion is discussed on the fusion newsgroup."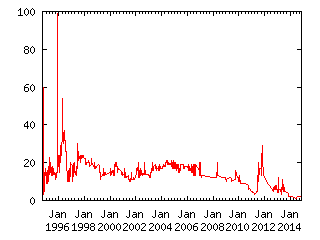 The judging of this statement could be quite difficult due to ambiguities. However the statement is currently thought to have a 12% likelihood of being true. This means there is about a 1/8 chance that cold fusion is a real phenomenon according to the market. I believe that if people really believed cold fusion was this likely more mainstream research would be studying it. The market could be inaccurate in that
1. The question and judging of it are viewed as too ambiguous to trust.
2. Because real money is not used in this market the market is distorted by irrational bettors.
One problem with the field is that it has attracted cranks and conspiracy theorists. This now makes it difficult for a legitimate researcher to look into the area. The 12% figure could be accurate and some grand conspiracy against cold fusion exists. It is a feature of conspiracy theories that this hypothesis is likely to be supported by believers in such a conspiracy even though other explanations may be more accurate. Another possibility is that the 12% figure is accurate but that researchers fear being dismissed as cranks if they research the area.
Imagine the case where the market was overly optimistic and it used real money. A researcher with evidence against cold fusion could bet heavily against it. Then she would publish a result that showed it to be less likely. When the value of her bet (idea futures) increased she could then sell her "no cold fusion" bet and make a profit. As shown in this
post
people who provide evidence against conspiracy theories are frequently the subject to abuse.
So how likely do you think cold fusion is?